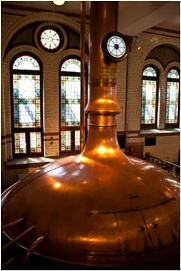 Brewery/Winery New Product
Development/Brand Formulation



Your

Brewery
or Winery has several new products to prepare for your growing brand portfolio.
At BrewPlan, we have a certified and decorated Brewmaster on our staff. Our interactive Brewmaster comes with 35 years experience
developing and brewing award-winning beers in a high-volume, world-class
brewery

.

Strong communication, planning, problem solving and
leadership skills.

Hughes

Brewing and Beverage Consulting, LLC p

rovides
BrewPlan, Inc. with technical assistance to a number of breweries and contract
brewers throughout the U.S. Areas of
assistance include recipe development, material pricing, equipment selection
and process audits.
Our Operations expert has
been responsible for all brewing operations, including raw materials selection,
batching, mashing aging, dry hopping with cones and oils, finishing and
pasteurization for a top-5 U.S. brewing and beverage facility with projected
annual production of approximately 2.4 million barrels of beer, malt-based
beverages and non-alcoholic flavored beverages
Developed award-winning
recipes and specifications for all beers produced by City Brewing Company.
Designed formulations and
implemented procedures for products of contract-brewing customers.
Negotiated brewing raw
material pricing for City Brewing Company.
Directed the restart of a
closed 5 million barrel brewing facility
Has worked with wine and
champagne yeasts in craft beer development
Craft Brewery and BrewPub Planning

Hughes Brewing
and Beverage Consulting, LLC can provide Brewing and Pub/Taproom Design
expertise for breweries in planning. We
can educate you on some of the pitfalls in selecting the right equipment
partner, plant design, process development, production planning, organization
development, methods improvements, and process audits. We can be integrally involved in assisting
with the architect, engineering, layout and design of your Brewery and/or
Brewpub. We can also assist you with
vendor selection of the proper packaging equipment for the scale/size of your
Brewery. Finally, we can make
recommendations on selecting partners for raw materials/ingredients, label
manufacturers, packaging components (bottles, cans, cartons, crowns, baskets),
Sankey kegs, and point-of-sale/marketing.
Craft Beer Analysis
and Composition Hughes Brewing and Beverage Consulting, LLC
has a background in Chemistry and began his career as a Quality Assurance Technician
after graduating from University of California
Brewing School of Science and Engineering. Quality assurance training delivers in the
following areas
Physical properties
(color, carbonation, pH, cloudiness
Microbiological
Properties (yeasts, spores and bacteria counts, quantitative and qualitative
analysis)
Chemical Properties (ABV,
calories, original gravity, hop bitterness units, and oxygen levels)
Product composition (All
new beers and batches will be tested for the above qualities)